Porsche Engineering's long-established Nardò Technical Centre tests the mobility of tomorrow but as well as addressing automotive megatrends, it's continually developing itself – with the latest infrastructure, expanded capabilities and a growing team of specialists.
Together with the Cayenne, a grey Panamera is also on the Nardò Technical Centre's (NTC) driving dynamics platform in southern Italy this morning. At the Porsche Engineering proving ground, engineers are now investigating the performance of autonomous driving functions. Toledo has printed out a whole stack of test scenarios on the tray above the dashboard, including driving in parallel lanes with sufficient distance between vehicles, changing lanes to the right or left, and avoiding an oncoming vehicle.
Such tests for autonomous driving functions at SAE Level 4 (fully automated driving) are now part of everyday life at the NTC – this is where the mobility of tomorrow is tested until it is ready for series production. But continuous development of the NTC itself is also required: "A revolution is looming in the automotive industry over the next five to ten years, caused by trends such as autonomous driving, connectivity and e-mobility," says NTC Managing Director Antonio Gratis. "We must adapt to this – with new infrastructure and new capabilities."
What this means can be seen on the circuit of the test centre: the inner circular track, which in the past was used primarily for testing commercial vehicles, was given 48 kilometres of new road markings in 2020. Now part of it looks like a three-lane European motorway, while another part is set up as a three-lane US highway.
In the future, some tests at the NTC might actually be carried out without any people at all: in February 2020, a Porsche Cayenne drove more than 600 kilometres at a maximum speed of 130 km/h on the circuit – without human intervention. During the endurance test, the steering wheel and pedals were operated by a steering robot, and a test driver was only on board for safety reasons. "This form of test automation promises higher efficiency and better reproducibility," says Palermo. "But it cannot completely replace human drivers."
In addition to the improvements to the test tracks, a further innovation is preparing the NTC circuit for what is to come. In the future, a fibre optic cable will act as a data backbone, connecting displays, traffic lights and transmitter masts along the route to enable communication between vehicles and the surrounding infrastructure (vehicle-to-infrastructure). To this end, the NTC has prepared the infrastructure for laying 91 kilo­metres of fibre optic cable around the circular track and the vehicle dynamics platform.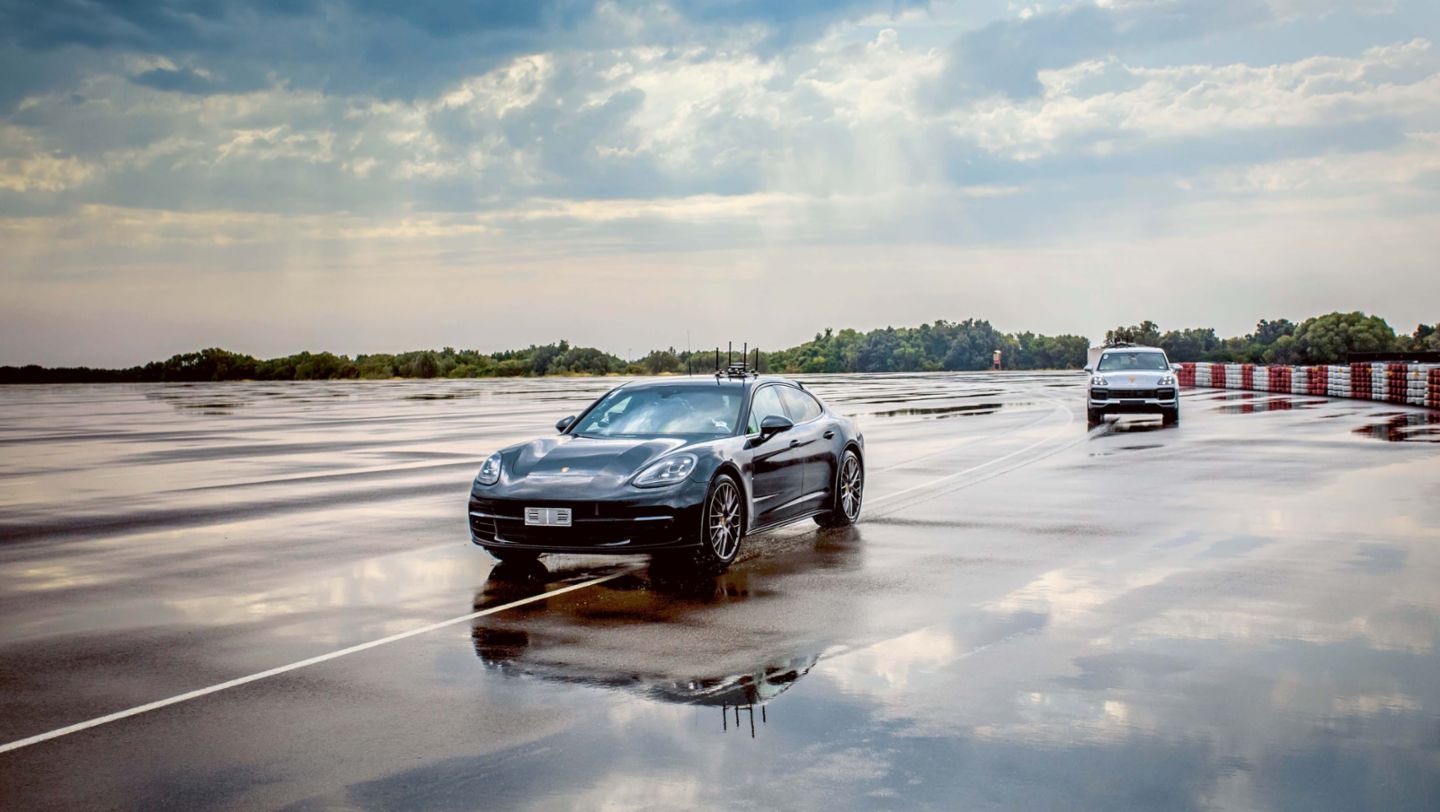 The NTC is also working on its own mobile communications infrastructure, which will enable further tests of autonomous driving functions and vehicle-to-vehicle communication. And in a few years' time, 'Sim City' is set to join the new test area – a city with moving houses and traffic signs, in which different urban scenarios can be set up for testing advanced driver assistance systems (ADAS).