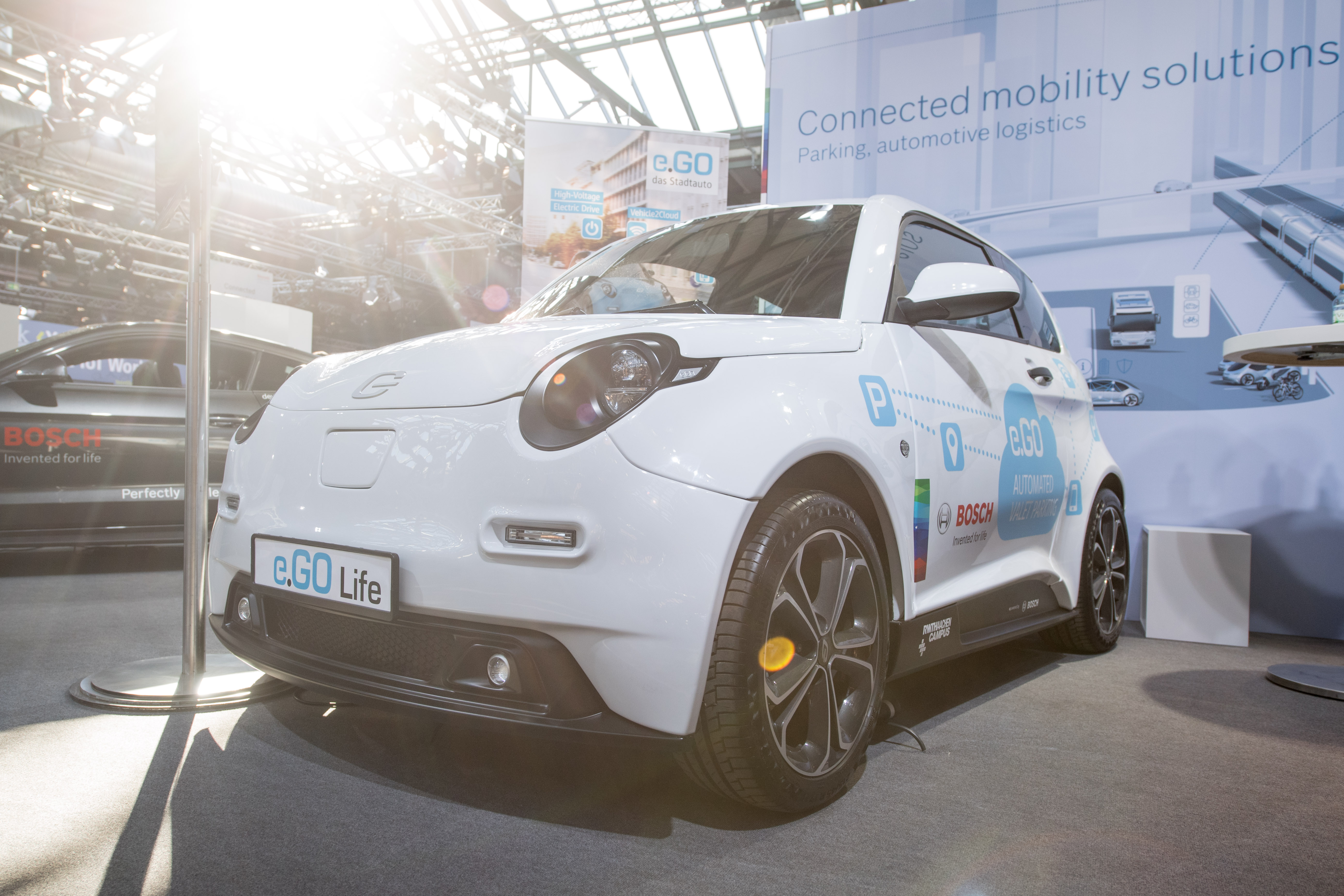 Bosch and the Aachen-based automaker e.GO have agreed to collaborate on automatic valet parking service.
Bosch will handle the infrastructure technology in the parking garage and will work with e.GO to integrate the start-up's vehicles into the automatic valet parking service. The first stage will see automated valet parking implemented using up to 12 of e.GO's Life electric cars. These cars are part of e.GO's fleet, which the company makes available to its workforce for business trips and so they can present the automated valet parking service.
In the second stage, Bosch and e.GO aim to improve parking-space utilization in the parking garage with the help of automated valet parking.
This is how it works: drivers simply leave their car in a drop-off area at the entrance to the parking garage. Using a smartphone app, they then instruct it to make its own way through the parking garage to a vacant parking space. Later, they instruct the car to meet them at the pick-up area in exactly the same way. Drivers do not need to monitor the procedure; instead they can leave the parking garage while their car is still on its way to the parking space. What makes this possible is intelligent infrastructure. Bosch sensors in the parking garage monitor the driving corridor and its surroundings and provide the information needed to guide the vehicle. The technology in the car safely converts the commands from the infrastructure into driving maneuvers and stops the vehicle in good time in the event of any obstacles or if people cross its path.
Bosch and e.GO want to involve the German certification authority TÜV and local authorities in their collaboration from the outset to ensure reliable operation of the vehicle and parking garage technology.
For Bosch, the collaboration that has now begun with e.GO is the company's second automated valet parking project. Mercedes-Benz is the pilot partner for the solution. At the Mercedes-Benz Museum parking garage in Stuttgart, Bosch and Mercedes-Benz have already made automated valet parking a reality, presenting it to the general public in the summer of 2017. Above all, Bosch and Mercedes-Benz want to gather experience of how users interact with driverless vehicles and how well such vehicles are received.
To this end, the two companies are about to launch what they are calling an "experience tour" in the next few weeks. On the experience tour, an expert will accompany interested guests on a ride in a driverless car in the Mercedes-Benz Museum parking garage, explaining the technology and answering questions.
Source: Bosch